About Us
Himawarikai was established in 1971 under the umbrella of the Immigration Institute of the East Bay, thanks to a small grant from the United Way. Since its establishment, Himawarikai has served the needs of the Japanese-speaking community in the Bay Area, while constructing mutually supportive relationships with the surrounding communities.
Himawarikai organizes events and activities for Japanese speakers to build community and to foster cultural awareness and understanding. Our events and activities include Japanese writing and book clubs, Qigong classes, annual New Year celebration, summer picnics, lectures and workshops dealing with legal and financial concerns of Japanese speakers and the history of Japanese people in the Bay Area. Members receive quarterly newsletters filled with information about our activities and items of community interest.
Qigong classes are now held by Zoom.
Used Book Sale will be held on the 3rd Saturday of every month until further notice. No book sale in April and December.
Please wear a mask attending the used book sale regardless of your vaccine status.

Every Thursday: Qigong Class by Zoom.
Click on the event for more info and to participate.
Second Wednesday of the Month: Hanakago by Zoom.
Click on the event for more info and to participate.


Book Sale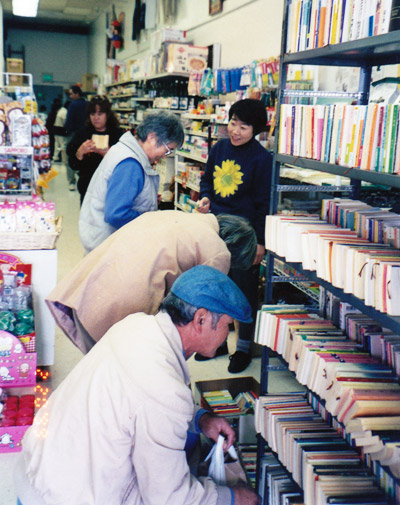 Looking for Japanese books? Himawarikai holds a large used book sale from 11 am to 3 pm on the third Saturday of every month except in April and December at Jay Vee Center in El Cerrito (10566 San Pablo Avenue, El Cerrito, CA 94530). Donations of used Japanese books (all kinds!), DVDs, and magazines are always welcome! Please contact us no later than 10 days before the sale to reserve a place for donating books. Let us know if you'd like a receipt for your book donation. For more information or to volunteer, contact us or email us at bayareahimawarikai@gmail.com.
Please wear a mask regardless of your vaccine status.
We accept cash only.
Join!
Anyone can join Himawarikai. There is no initiation fee, just an annual fee of $25, which you will recoup quickly by attending our events**! (Membership fee renews every January, and is discounted to $15 for the first year only when joining during or after August.)
To become a member of Himawarikai, fill out and send this form. Please mail a check for $25 made out to Himawarikai/IIBA to: Himawarikai/IIBA, P.O. Box 2408, Berkeley, CA 94702. Payments can also be made by PayPal.
**Most of our events are discounted or free to members.**
Himawarikai is fiscally sponsored by Immigration Institute of the Bay Area, a 501(c)(3) nonprofit organization.